Clinical Style / Orientation
Brittany has had great success in helping her clients, mainly by fostering a supportive yet challenging therapeutic environment.  Brittany works collaboratively with her clients to help them feel better, improve relationships, and ultimately grow from those challenges that are making them feel stuck. 
Brittany's collaborative, strength-based, and humanistic approach emphasizes the internal resources that need to be tapped.   As such, Brittany focuses on asking insightful questions, challenging and confronting her clients where appropriate, and choosing interventions that are practical and change-oriented. 
Brittany works primarily from a cognitive-behavioral (CBT) orientation, a model that is extremely effective in uncovering and changing faulty thought patterns that are contributing to negative symptoms, poor behavioral choices, and relationship difficulties.  This orientation lends itself to a solution-focused, strength-based approach.
Theoretical Orientations
Cognitive Behavioral (CBT)
Solution-Focused
Dialectical Behavioral (DBT) 
Humanistic 
Positive Psychology
What These Orientations Mean
Thinking & Behaviorally Focused
Pragmatic, Short-Term
Skills-Based
Compassionate / Empathic
Strength Based / Non-Pathologizing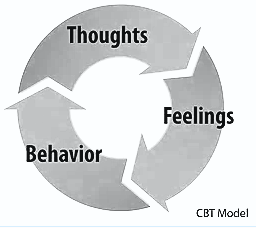 What is Cognitive Behavioral Therapy (CBT)?
Cognitive Behavioral Therapy is the best-researched and most effective therapeutic treatment, particularly for those suffering from anxiety and depression.   CBT is based on the premise that negative feelings and unwanted behaviors are a result of how one thinks.   Maladaptive thinking styles and Cognitive Schemas need to be identified, challenged with resonating facts, and ultimately reframed.  This will then result in reduced symptoms & healthier behaviors 
CBT is collaborative, action-oriented, short-term, and oftentimes involves "homework" outside of the therapy sessions.